4-Day Trek In Havasupai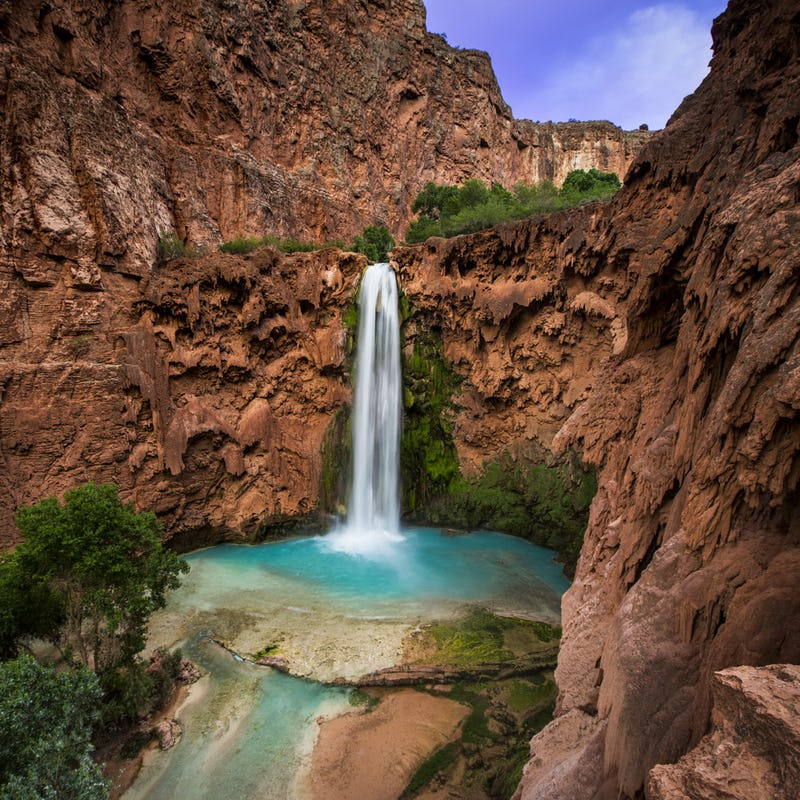 Have you ever thought never in a million years would this basic biotch backpack 10-miles to a campsite with no showers?? ...WELL THINK AGAIN. CAUSE THAT'S RIGHT Y'ALL, I DID IT! And it was amazing, and epic, and I wouldn't have been able to do it without the awesome people I went with. My friend planned this trip and helped us navigate through the trails as it was his third time going , so I highly recommend going with someone who has been before.
Our entire trip lasted for 4 days: 2 days mainly driving, and 2 days enjoying Havasupai.
DAY 1
We decided to drive to Hualapai Hill Top to camp at the lot the first night so we could get an early start to our hike the next day. Our road trip to Hualapai began at 12PM and it took about 7 hours total to get there from Orange County. The drive wasn't too bad, but I suggest leaving earlier because once it gets dark the drive can get a little sketchy. And by sketchy I mean... cows and elk literally pop out on the road during the last hour stretch of your drive.. so be extra careful! They might be cute, but these things have really sharp horns so I guarantee you will lose this battle if you accidentally hit them. Calling AAA will also be a no-go because...
the last 60 miles before the hill top, you'll lose all cell service.. (BYE, BYE CIVILIZATION).
If you're going in a group, I suggest making your final pit stop at Hualapai Lodge for a bathroom break/meet up spot. Then head over to the hill top to find a parking spot to camp at and rest up for your trek.
DAY 2
YESSS... the 10-mile adventure begins. We started our hike to Havasupai Campgrounds around 6AM and finished around 12PM. On average, it normally takes people 4-7 hours to complete this hike by foot. The beginning of this hike was an hour of downhill switchbacks ( ...and yes, you'll be going UP on your way back, but let's just hold off on that about-to-vomit feeling till later). After the switchbacks, the hike mostly flattened out and we saw lots of rocks and pretty red canyons. We walked on this for awhile but after what felt like an ETERNITY, we finally hit Supai Village to check into our reservation! Hitting Supai was a milestone because it meant we had hiked 8 miles and were only 2 miles away from the campgrounds. From this point, we got little pleasures along the way (i.e small waterfalls) so we stopped at Fifty Foot Falls for a swim--- one of the nicest feelings after a long and sweaty hike. After our swim, we continued to the campgrounds to set up camp. Havasupai Falls was only 0.5 miles away from the campsite which made it easy for us to spend the remainder of our day there.
Havasupai Falls was just as incredible in person as the iconic photos you see on Google. The water is crystal clear, extremely blue, and there is even a little bench on the water you can sit on.. SOOOO you best believe we had dinner there. DINNER AT A WATERFALL?? why freaking not. All you need are some MRE's (meals, ready to eat) and you're golden.
DAY 3
This day was spent heading to Mooney Falls and Beaver Falls. I personally loved it: The adventure junkie in me loved that we got to trek through water and climb up questionable trails with sketchy ladders and ropes; and the Instagram model in me loved the epic waterfalls at the end because photo ops (obviously). Mooney Falls was undoubtedly gorgeous, and Beaver Falls was the perfect spot to relax at. We had lunch at Beaver Falls, and some of us went cliff diving after (no, not me. I'll stick to observing, thank you very much).
TIFF'S TIPS:
1) INVEST IN GOOD WATER SHOES or chacos
2) BUY A JETBOIL TO COOK YOUR FOOD
3) place food in plastic buckets otherwise... "squirrel!"
4) BRING CASH and BUY FRY BREAD
5) IF BACKPACKING, PACK no more THAN 30 LBS.
DAY 4
Sadly, this was the last day of our trip. Remember earlier on when I said to hold off on that vomit feeling? Well it's here, and it's going to bite you in the ass, and ironically you might even vomit. (But before that, don't forget to pick up some fry bread made by the natives at the local cafe in Supai Village. It is bomb.)
NOTE: There are 3 ways you can get to and from the campgrounds
Backpacking

Taking a horse (or choosing to have it just carry your pack)

Helicopter ride ($85/person each way)
We decided to backpack and headed out around 7AM to start our trek back to Hualapai Hill Top. After already feeling sore from the trip's hike, I seriously considered taking a horse or helicopter back.. but I didn't and I hated myself for it. It was definitely the hardest hike I've done so make sure to fill up on your water before leaving camp 'cause you're gonna need it. The first 8 miles back weren't too bad. The last 2 miles were brutal. Homegirl here thought it'd be easy peezy with all the stairmaster training she's been doing at the gym. And homegirl very quickly realized that there's a reason people take the helicopter ride. At one point, I felt like I was doing lunges up these huge steps but I pushed through it, told myself not to look up, and after the burning in my calves eventually numbed itself... I MADE IT TO THE TOP!!! And that feeling of accomplishment alone made the entire hike worth it. I'm proud to say I'm kind of a Havasupai bad-ass now :)
Overall, if you're into the outdoors and hiking then you'll love this trip. I hope I didn't scare anyone into backpacking because it was truly an amazing experience. Thanks for reading! And special thanks to all the new friends I made on this trip, you were all such genuine people.